Mike writes:Finally got a chance to go ice fishing here in eastern Iowa, (which is why I bought them) and the icespikes worked great. I never slipped at all on the ice, making it safer and easier. They work so much better than the slip-on type products. I also wore them while driving with no problem. I didn't think of it at first, but they have worked great for snow blowing and shoveling the driveway and sidewalk, and when walking the dog (she loves to pull hard in the snow) on slippery sidewalks. I found the icespikes in your ad in my monthly Fur-Fish-Game magazine.
Nicole writes:My husband first purchased a deluxe set for me for Christmas in 2020. Our local gym had closed for a extensive remodel which left me no choice but to complete all of my running outside. Previously during winter seasons, I would hit the treadmill on snowy days. Icespikes have been a lifesaver. Perfect traction for snow and ice. I have liked them so much I just ordered a replacement set and now in my second winter running season with them I am still running outside despite the gym reopening. In fact I now look forward to those snowy runs. Thanks for offering such a great product for a low price. I definitely refer those who ask how I can run in the snow with ease about your product.
Richard writes:I have been using Icespikes for many years. I screw them into a pair of Sorrels. We have a very steep driveway, live at 7,000ft elevation and get a lot of snow. Icespikes are the only way I can safely navigate our driveway.
Emily from Vermont writes: Just wanted to tell you that the Ice Spike is LIFE CHANGING for me in the winter when walking my dogs, getting the mail down a slippery driveway, or just feeling confident walking to my car in the ice and snow. THANK you so much for such a great product!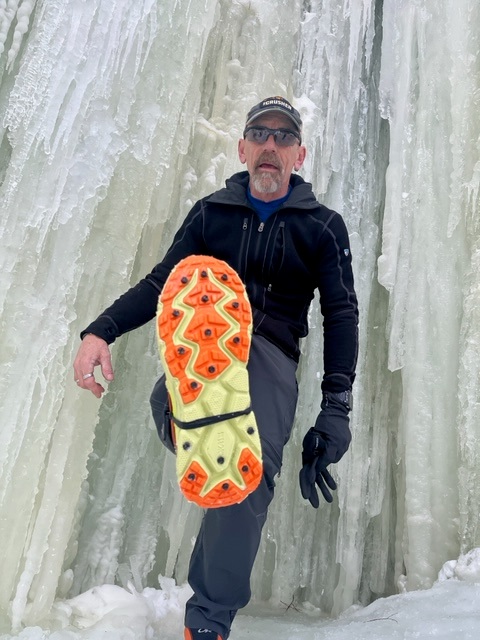 Gary from MI writes: Icespikes were the CORRECT SOLUTION at Eben Ice Caves in MI. Had to help other visitors around as I stuck like glue.
Nathan writes: Thanks for the email. I've been using ice spikes for a while now. I first heard about them at a specialty running store in town about ten years ago. Unfortunately, the store closed some time ago and I've had a few injuries that slowed me down. I still run, but am mostly a fair weather runner these days. However, my driveway is very steep and clearing it after a snow storm is treacherous at best. Adding ice spikes to my Winter boots makes it much safer to move up and down the driveway with a loaded shovel. Thanks again!
Comments from a skeptic: I was skeptical when my wife purchased icespikes for me to do my winter running.  I couldn't be happier with the product.  I feel super stable and secure on all kinds of terrain, angles and conditions. Thanks, Nathan
Gary writes: I've actually been using your product for many years was first made aware of them thru another ultra runner doing the frozen otter in Wisconsin. Absolutely!!!! Love the product and service has always awesome. Was in a pinch one year for winter ultra and needed some more spikes in a hurry and your crew was able to expedite the shipping I've bought many many sets for friends and family over the years. Have been directing lots of people to the web site, forward all the coupon and discount emails. Keep up the amazing work; I'll keep spreading the word!!
Sarah from New England writes: 2023 will be my 10th year as an Ice Spike customer. Living in New England means several months of sub optimal traction with black ice and freezing temperatures. Ice Spike is the only product I've used where I don't have to worry about my pace or footing causing me to take a spill.
Use of Ice Spike ensures that I can spend more days running outside knowing an ice related injury won't put me on the bench for half the season. I can run and truly focus on the joy of running rather than worry the whole time about traction issues. I've already told my running friends and they too have seen that Ice Spike is the superior product for stability through the long New England winters.
Chris writes: Once I used "IceSpikes" 3 years ago I would not want to be without them. I am a Maine Guide and teach an Outdoor Leadership course and they have become an essential component of my winter outfit. Sure footing in the icy woods has saved the day on many occasions.
Bob From Michigan writes: I hike every day 3x with my dog Henri. Ice spikes help this 64 year old man stay upright!! We hike varied terrain in all types of conditions. Across forested woodland trails covered with leaves, snow, and ice. In the rain, snow, slush and anything else Michigan weather throws our way (except for lightning 🤓). Thank you IceSpike from the bottom of my heart ♥️!! Peace and Love.
Emily from Edge Masters Swim Club writes: Just wanted to tell you that the Ice Spike is LIFE CHANGING for me in the winter when walking my dogs, getting the mail down a slippery driveway, or just feeling confident walking to my car in the ice and snow. THANK you so much for such a great product! THANK YOU!!
Todd writes: I saw a product review (and ads) in my only magazine subscription which is Fur-Fish-Game.  I've been a subscriber since maybe '73 ??  I completely trust their product reviews because they use them just like I do.  This is my 2nd batch since I saved the tool.  I have them on 2 sets of footwear now.  I like the bite and ease of installation.  I have recommended them to my buddys also.  I use them in Adirondacks for hiking, ice fishing, trapping, hunting, and all general outdoor work when we get the mixed crap in here. Stay well and don't slip!
Karen from Durham, NH writes: I ordered these because I got tired of tripping over the STABILicers attached to my boots - a few years ago my sister-in-law raved about Icespikes – Love Em! No ice in my driveway now but there will be before we are done with winter.
Josh writes: Thanks for reaching out.  I've been using IceSpikes for almost ten years now and have been really pleased with them!  I originally inherited a set from my dad who used them when he climbed Mt Kilimanjaro and didn't need them afterwards.  I live (and run) in the mountains of Colorado and have tried a number of different traction options and IceSpikes are, by far, the lightest and most secure.  I even tried the 'poor man's version' with some machine screws, but they didn't last and didn't provide the same traction.  I recommend IceSpikes to all my friends and even tell random fellow trail users about them when given the chance.  Thanks for making a simple, affordable product that works.  I've been able to keep my feet underneath me on many a sketchy winter trail thanks to you!
Paige, Certified Athletic Therapist, BSc Kin CAT(c) ATC writes: I needed hockey season to start before I could give an honest review of my Icespike! Honestly...I LOVE THEM! I'm an Athletic Therapist in Southern Alberta (Calgary, to be exact!) and work a lot with hockey, it's been years of trying different traction options and not liking any of them. I have relatively small feet, so most generic slide/clip on traction devices are too big for me! Icespike was the perfect option to allow me to feel safe on the ice and not look ridiculous! I love how easy they were to install and how even after wearing my shoes for 14 hours, I don't feel them! I've attached a photo (not a great one) of my Icespike on the bench and a couple just after installation! Thank you again for a great and simple product! My feet thank you!
Michael, Founder/President of St. Louis Athletic Training Services, LLC writes: I am a repeat customer, these will be pairs 2 and 3.  I work hockey here in St Louis as an athletic trainer.  In fact my company, St. Louis Athletic Training Services provides AT's for 2000+ hockey games a year.  I absolutely love my first pair of ice spikes.  I bought a backup pair and a longer pair to test out in a different shoe. I have a fairly decent following on Twitter and have mentioned and tagged @Ice_Spike there before and will continue to do so.  These are game changers for us old AT's.  I first started using "cheaters" after my 16th season of working hockey and suffering a gnarly hip/groin injury in the summer.  I used Yaktrax for a few years, and then I saw on the PHATS website an ad for these.  I spoke with a couple of the AT's in the NHL that wore them, and they loved them. So I bought a pair and WOW what a difference they make.   Bottom line, fantastic product.  
Tom from North Central PA writes: I've used Icsspikes for years. They allow me to walk our approx. 25 percent grade of about 700 feet, while snow blowing.
At times the hard pack on the pavement can get icy and the tracks on my blower begin to slide.  I am able to hold the blower back and keep it from dragging me down the hill, only because I  use your Icespikes. I can walk our drive when it is a sheet of ice from freezing rain. Our winter hill vehicle is a Subaru outback with studded tires on all 4 wheels. Studs and Icespikes make all the difference in the world!
Yvonne writes: This is the second time that I ordered icespikes.  I have used once in hiking where there are a lot of ice. It gives me feel safe. I was told by my brother about your item. He searched for his elder sister to keep me safe.
Mini writes: I can't remember where we heard about your spikes, but we used them more than ever this year. I decided to get kits for all of my running pals. We live in the suburbs of Chicago and have had a really snowy year. I rave about them on strava and have brought them to the attention of the high school XC team I help with as well as the race director of a recent half marathon. 3 out of these 4 runners (including me) are in our 50s and still at it. Love the spikes. Truly have saved us this snowy Chicago winter. 
Maria writes: This has to be my 5th pair—I've given them to friends and family.  I think I originally heard about them from a runners magazine.
Josh writes: Thanks for reaching out. I've been using IceSpikes for almost ten years now and have been really pleased with them! I originally inherited a set from my dad who used them when he climbed Mt Kilimanjaro and didn't need them afterwards. I live (and run) in the mountains of Colorado and have tried a number of different traction options and IceSpikes are, by far, the lightest and most secure. I even tried the 'poor man's version' with some machine screws, but they didn't last and didn't provide the same traction. I recommend IceSpikes to all my friends and even tell random fellow trail users about them when given the chance. Thanks for making a simple, affordable product that works. I've been able to keep my feet underneath me on many a sketchy winter trail thanks to you!
Martin writes: Dear Icespike I have just received my icespike found them easy to insert into an old pair of running shoes and then tested them out over the wet fields, very impressed, great grip. I came across icespike on the internet when looking for a new pair of cross country running spikes and thought I would give them ago. So glad I did as they have transform my old running shoes into cross country shoes at a fraction of the price. Thank you
Don writes: I rocked my Ice Spikes for the first time on the Highline Canal Trail in Colorado and had no issues running through the snow, ice and mud!!! I love them!! I went with a 6 up front and 4 on the heal pattern on my Brooks Pure Grit's.
Gail writes: I've just placed my second order of spikes after wearing down my first set - THESE ARE AMAZING! Just wanted to say thanks for making my winter runs so much more fun now that I'm not constantly sliding around Brooklyn's half-shoveled sidewalks, worrying about face-planting into traffic. Icespike is such a clever, simple to install invention that works even better than I'd hoped. THANK YOU!
Pam writes: I have been using Ice Spikes for 3 yrs. I love them! The complete kit is for a lady in my yoga class who likes to walk outside, I am a runner and compete all year round. I tell everyone I meet about them and see more people using them at races so the word is getting out! It is a wonderful product!
Lance writes: The verdict is in; I compared The Icespikes to the Yaktrax. Yours grip much better and they aren't heavy and bulky like the Yak Trax.
Thanks, Lance
Cross country and track coach at Pembroke Academy
Mark writes: I have been using icespikes for the past two winters in Wisconsin and this is my third or fourth order. Would not run in the winter without them.
Justine Writes: Love my icespikes... in the snow, on the ice, and now on everyday trails... I starting using them last winter with the 5 feet of snow and ice we received that year.
Since then, I have taken up being coached by Michele Yates and it was as Leadville 100 last August, she suggested I run the race in my icespikes.
I hadn't more than 20 miles in them as that point, and only on ice and snow. I took her advice and used them.
Being a flatlander, I didn't have what it takes to finish Leadville, but I got in a great 50 miles before missing a cut off, and I gotta say, I loved the icespikes on the trails...especially the technical downs, and the slick areas, giving me the confidence to move at a faster pace, than I normally would have.
Now, I use them for all of my trail races...I am heading to New Zealand this weekend, and running a 100k. My icespikes are packed and ready to run...
Thanks for a great product.
Happy trails... Justine
Barb writes: After testing my Icespikes while shoveling my driveway (they worked great!), I finally had the opportunity to take them on a run. We had snow-covered ice along our running route today, and I never once slipped, slid, or felt unsteady. This is an amazing product and I would recommend it to anyone who wants to get out there and do some winter running!
Barb
Northwest Indiana
Polona writes: This is actually not my first order, To be honest, I no longer remember how I found you, but knowing myself, it was probably just surfing the internet (doing research is a professional habit). We, my husband and I, use them on our trail running shoes and are really satisfied with them. Now we need a new supply, the one from 2010 lasted till now ;))). I have them in my Salomon Pro 3D ultra and he in his Icebugrunning shoes. We tend to use them in the mountains, not for running on icy roads.
If I remember correctly, I even won a pair of them back then. So we did end up with quite some spikes to use.
Greeting from Slovenia,
Polona
Dan writes: Ok, so I put the spikes in my hiking boots the other day and went for my usual two - three mile walks that I do each day. These little guys are absolutely fantastic!! I found my self looking for ice to walk on just to show off !! Prior to these I used the coil on rubber band type grippers. These would break in less than a week and still slipped on bare ice. Now, I can actually look around at the sites rather than constantly watching my feet. Thanks for being so clever ! I am now off to sing your praises to all the folks I know. All the best!
Angimal writes: I was running solo. These spikes work great! I even tried to slide across the ice and nearly fell over from the traction! I am a triathlon coach and strength coach here, and I will be sure to brag these up. Do you contract with stores? There are a couple homegrown stores that might carry them here on the Kenai Peninsula.

Oh, and THANK YOU for not killing Alaskans with a ridiculous shipping cost. Bragging about that too!
Lisa from Uinta Mts., UT: I just received my ice spikes in the mail yesterday and went out today for my first trial run up here in the Uinta Mountains. I am so absolutely pleased with how well they worked! We have so much snow up here at 8000ft right now and I have been dying to get out and run! Thanks to you I don't have to yearn for spring to come, or even worse get on the treadmill!!

What a wonderful product you have created!

Thank you, Thank you!
Darlene from Illinois: My husband and I tried out our new ice spikes this afternoon and they worked just as well as you said they would. They gave us access to walking paths in our local forest preserve that otherwise we would not be able to walk on. We highly recommend them.
Yvonne writes: I am training for the Boston Marathon and have spent a lot of time in Australia to help my mother through the last year of her life. I returned to Minnesota on New Year's Eve. It was quite a shock to run on icy roads after being used to temps in the high nineties and hundreds. I run on gravel roads in the rural area where I live. On my first long run I was being very careful and walked on an icy spot between two gravelly ones - to no avail. My feet went out from under me and I landed hard on my elbows with a thwack to my head. As soon as I got home I started researching spikes on the net. It was reviews that made me decide to try your product. They sounded effective and not too loud - I don't run with music, I like silence and the sounds of nature.

They arrived in time for the following week's long run and I am pleased to say I didn't slip once! Last week I felt even more confident and was pleased with my time - even though conditions don't warrant it.

I have told lots of people about Icespike (My friends in Australia are most intrigued:) My track club has our annual banquet next week and I certainly will pass the word along.

Thanks so much for this great product. Cheers!
Jamie from Maine: We saw you at the Expo at the Maine Marathon. We also bought a pair for my husband's 90 year old grandmother!!! Genius!!!
Peter from New York: Bought your product at the ING Hartford, CT Marathon Expo because in a race in October, I saw a runner in front of me slip on a bridge covered in early morning frost, totally destroying her knee. That's not for me thanks to ICESPIKE!
Mary from Ohio: I have tried all the different products out there without much success...they can't compare to ICESPIKES!! The Yaktrax slipped around on my shoe and the cleats with a rubber "webbing" that slip over the shoe actually made me feel LESS stable on icy or slippery roads/sidewalks. The ICESPIKES give me the confidence I need to walk...with no fear of slipping or falling. ICESPIKES has such a "natural" feel to them and truly grip the snow, slush or ice...other spikes do not work the way ICESPIKES do! I wish I would have had these years ago.
Doreen from New Hampshire: As a big trail runner, I realized how glad I was that I had ICESPIKE installed running shoes last fall running up and down slippery, wet clay trails! The great traction was a thrilling experience! I am also in heaven in the winter, running with my Icespike shoes on steep snow and ice-packed snowmobile trails. I am having so much FUN with ICESPIKE!
Sue from Colorado: We used the Ice Spikes today for the first time and we do really like them. We were able to run our route without fear of slipping and falling. Just as advertised, there was no uncomfortable feeling for our feet or legs.
Terri from Pennsylvania: First, I'd like to say that I couldn't believe that your product was delivered so quickly! I tried them out this morning; I went through snow, hard slush, ice and wet pavement and never slipped once! Thank you for an awesome product!
Jan from New Hampshire: Hi, I just received your Valentine's email which reminded me to write a recommendation.

I first used the Icespike Jan. 19. I go for regular group walks with other seniors Mon., Weds., & Fri. and this was my first winter with the right boots but I still needed some spikes.

Most of our walks are in a wooded conservation area. I tried the Stablicers Light but was disappointed as they would slip side-to-side and felt very insecure. The chunks of rubber with the spikes under my feet gave me the feeling of being "perched." When stepping on tree roots & in ruts they were "un-Stablicers." I couldn't afford their more expensive ones with the Velcro straps so I searched through the Web and found Icespike. I could afford them (especially since the price included the shipping) and the concept seemed much better. In fact, I was surprised it was so basic; so simple. I already had the tools so I didn't need to get them which made the price even better.

I have to say, they are fantastic. They are everything that was claimed. I have the comfort of the hiking boots that I so enjoy without altering their stability. It's amazing. I sometimes forget that they're even on until I step on pavement and hear the clicking sound.

This past weekend I went to Biddeford , ME and I took my hiking boots with the spikes on them as I didn't know whether or not I would need the spikes. I didn't so it only took a few minutes to take the spikes off (I brought a power driver with me).

I am 61 and live alone so I certainly don't want anything to keep me from being independent. An injury could be disastrous. That is much less likely to happen now with the Icespikes. If I hadn't found the Icespike I probably wouldn't be able to go on the winter walks. Thanks so much.
Paul Grant from Sweden:: Dear Keith,

Firstly, I would like to thank you personally for your assistance regarding my purchase of Icespikes. These days most customers expect an automated response of which can be problematic for new or existing clients. I am thrilled to see Icespike adopting a personal one on one approach with their customers. Personally, I think this part of business can make or break a company. I know many cliental including myself regard this a key factor in deciding if they should ordering another product from a company or not.

Secondly, I would like to praise Icespike for its punctuality regarding ordering and dispatching of the Icespike product.

In regards to the actual product, I have just installed Icespike into my boots. I found the installation process to be very easy. However, I would like to make a couple of suggestions you perhaps would like to take into consideration. Please take the following as constructive criticism rather than a negative one. 1) On the backside of How to Install your Icespike, the photographs are too dark and the amount and layout of these photographs look confusing. Perhaps instead just insert four simple steps on the left-hand side and use illustrations instead of photographs. This would make it easier and less congested for your customers. 2) On the front side my only other comment I have is that you might want to change the grey color and market Icespike a bit more. Once again these are only suggestions and they are aimed to give you positive feedback.

I live in Sweden where weather conditions during the winter time can be harsh. Most days can vary between 14 to -22 Fahrenheit which is about -10 to -30 Celsius. Today I tested my new Icespike in all different types of walking terrains. I can honestly say that until now going outside was a cautious event especially when walking the dog. However, after installing your product, I had 100% ASSURED satisfaction whilst walking. I tested your product on thin and thick ice, soft and hard snow, even and uneven terrain. You have a great product and as long as you are consistent I know you can take Icespike to unlimited success!!!!

There are about nine million people in Sweden and even if at least half of that population purchased Icespike (4.5 Million x 24.99 = 112,455,000 Million).

I really think you should consider targeting the Scandinavian countries. (Norway,Sweden,Finland and Denmark).

Please let me know if you need any further assistance? I would be more than willing to help Icespike.